MODULE SIX:
Choose Gratitude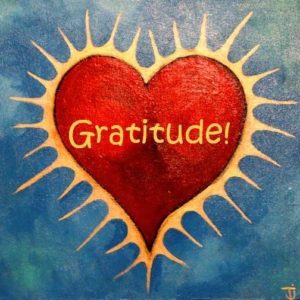 Let's face it, the buzz about gratitude has been around for a while. It seems like everyone (including Oprah) is telling you to journal or make lists or ­­­­meditate. I teach entire courses on the subject and we cover everything from the science behind gratitude, the benefits of it and the ways to practice it.
But lately I've been pondering a more rudimentary question about gratitude – is gratitude a feeling or an action? It's easy to list what we are grateful for on Thanksgiving Day – but what about a Tuesday when you have a broken water pipe under the kitchen sink, carpool to drive and you're running late for work?
What about right now? What do you have to be grateful for right this very moment? Think of the first thing that comes to your mind – maybe it's family or health, or maybe it's tangible things in life like the water that comes out of the faucet or the car that starts every time you turn the key.
Everybody has those days that gratitude doesn't come easy. Life can be tough. But let's break it down, because before the journaling, list making and meditating, simply acting grateful can bring about feeling grateful.
Now that's a simple statement but here is the science behind it. Researchers have found that gratitude stimulates two different parts of the brain – the hypothalamus (a key part of the brain that regulates stress) and the ventral tegmental area (part of our "reward circuitry" that produces the sensation of pleasure).
If the science baffles you, let's use common sense: When you make the choice to focus on the positive things (IE: find something to be grateful for regardless of the circumstance) it will simply make you feel better and ultimately happier.
And here is even better news. Choosing to be grateful can also alter the people around us. A 2011 USC research study found that people in leadership roles with a great deal of responsibility but with low emotional security, when questioned or challenged, tend to react in anger and even aggression. When these same people were shown gratitude or kindness, their antagonistic behavior diminished. A simple thank you can disarm even the angriest person.
Now that we have established the why of practicing gratitude, let's talk about the HOW. Here are three ways you can exercise or act with gratitude.
BE INTENTIONAL
Peter Drucker is often credited with the quote, "What gets measured, gets managed." (Although some folks say it goes back to Lord Kelvin in 1883!) Regardless of who said it, it applies. And if you want to start to ACT with GRATITUDE, you've got to be intentional about it.
One way you can measure your gratitude is to measure it. I've often talked about 10 x 40. Do something for 10 minutes a day for 40 days in a row and it'll become a habit. (I've never trusted that 21 day thing – it's not long enough for me!) In this case, I'd say just write down 10 things a day you're grateful for and you'll have a new gratitude habit.
The thing I'd suggest is choosing 10 new things each day also. This keeps you continually digging deeper for things you're grateful for and that becomes the new habit – always looking for something to be grateful for.
Don't want to make a gratitude list? How about reaching out to 2 or 3 people per day and thank them for being in your life, for doing something kind, or just for being who they are. You decide. But make your gratitude habit to connect with a certain number of people each day and express your gratitude.
Another option? Take 10 minutes a day to go over a situation in your past that was painful or unpleasant, and find something you can be grateful for in that situation. Use gratitude to change your perception of past events that were hurtful!
Here's my take on that quote: "What get's measured gets managed. What gets managed, gets done!"
So if you want to start cultivating the habit of gratitude – measure it! CLICK HERE for my 10 x 40 tracking sheet. Put this on your bathroom mirror and check off each day after you've completed your gratitude exercise.
Because if you measure it, you'll manage it, and once you manage it – it'll get done!
CELEBRATE THE SMALL STUFF
Rather than sweat the small stuff, I say let's celebrate it. Gratitude doesn't have to focus on the huge moments of life.
The small stuff may be something as simple as the fact that you have one apple left in the bowl and can include it in your kid's lunch bag. Or making all the green lights on the way to an important meeting. Recently I tweaked my knee and it was sore for a couple of days. Instead of lamenting on the soreness, I was glad to have two legs that work and take me where I need to go every day.
Take note of the small things that go in your favor every day and the list will be long!
SAY THANK YOU
"Don't forget to say thank you." I bet your parents said that to you in an effort to teach you good manners.
But saying thank you is an exercise in gratitude.
Watch for everyday occurrences where you can say thank you to someone. Not for a big gift or grand gesture, but for a small deed that might go unnoticed. Maybe it's something as easy as thanking your neighbor for pulling your trash can out of the street after an overnight storm. Saying thank you often and in unexpected circumstances is an external gesture that will boost your own personal gratitude and happiness.
I'm grateful for so many things. I've got a new grandbaby and another one coming any day. I'm grateful for the soothing and healing water of Lake Ouachita and the time I spend there to rejuvenate my soul. I'm grateful for the cool water bottle my friend Beth sent to me. I'm grateful for my youngest son's first days of high school. And I'm grateful for you, for this beautiful journey called LIFE that we're all on together.
Make the choice to make gratitude part of your everyday routine… No matter what kind of day you are having! Don't wait for turkey day in November or for it to be some HUGE gesture or windfall to come your way. Celebrate the small stuff. Say thank you. Be intentional! And you'll feel your thankfulness for everything in life begin to rise.
FURTHER ENLIGHTENMENT
"I would maintain that thanks are the highest form of thought; and that gratitude is happiness doubled by wonder."                                                 G.K. Chesterton
"If you want to turn your life around, try thankfulness. It will change your life mightily." Gerald Good
"Gratitude turns what we have into enough, and more. It turns denial into acceptance, chaos into order, confusion into clarity…it makes sense of our past, brings peace for today, and creates a vision for tomorrow." Melody Beattie
"Let us rise up and be thankful, for if we didn't learn a lot today, at least we learned a little, and if we didn't learn a little, at least we didn't get sick, and if we got sick, at least we didn't die; so, let us all be thankful." Buddha
"Silent gratitude isn't very much to anyone." Gertrude Stein
"Piglet noticed that even though he had a Very Small Heart, it could hold a rather large amount of Gratitude." A.A. Milne
"We should certainly count our blessings, but we should also make our blessings count." Neal A. Maxwell
"In ordinary life, we hardly realize that we receive a great deal more than we give, and that it is only with gratitude that life becomes rich." Dietrich Bonhoeffer
"Gratitude and attitude are not challenges; they are choices." Robert Braathe
"This is a wonderful day. I've never seen this one before." Maya Angelou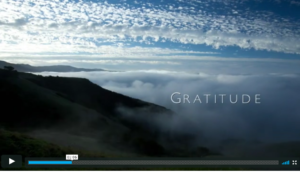 Check out this beautiful reminder to open your heart today!
DOWNLOADS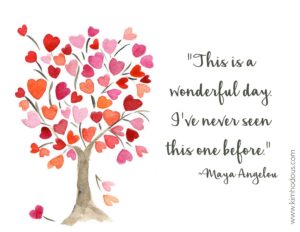 Download your MODULE SIX Mini-Poster by clicking the image. Print it on regular 8.5 x 11 paper and hang it in your office, bathroom, breakroom or wherever you and your team will see it daily.

Download MODULE SIX's Dash of Success by clicking the image. Remember it's for your car's dashboard so it will print in reverse image. Trim it to size, lay it on your dashboard and the image will reflect to read correctly and inspire you every time you get into your car.