…who grabs the attention of her audience and never lets them go. She relates to every age, every gender and every audience. They leave the event with a better outlook on life!"  ~Loretta Daniels, Director, Regional Business and Innovation Center
THE HAPPY, HEALTHY AND FULL OUT LIFE:
Balance Work and Play to Live Your FULL Potential

Today's culture of 'do more with less' can leave you feeling un-fulfilled, un-motivated and exhausted.   In this program, you'll learn the high cost of work without ceasing and the big payoff of health + happiness. You'll learn practical strategies for work-life balance, productivity and staying motivated so you can feel fulfilled in all the nooks and crannies of your life.
In this laugh-out-loud program, you'll re-ignite your passion, re-claim peak performance and re-call what really matters!

how our energy is affected by our environment
the benefits of mindfulness in business
a healthy body matters – so does real food, lots of water and movement
stay focused – when at work, be at work – when at home, be at home
what fun and laughter mean to your bottom line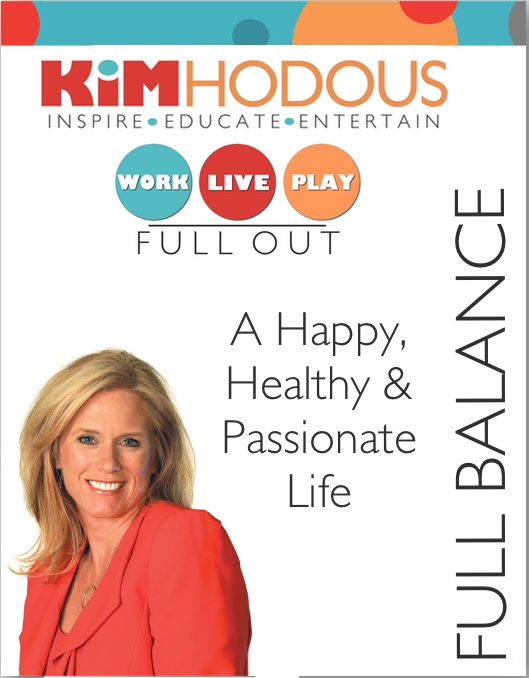 WHY CHOOSE THIS PROGRAM?
We're asking more of employees and making fewer resources available to them.  This program is a HUGE resource for helping them make do with what they have available to them!
Being out of balance causes stress.  Stress costs your organization money.  Employees who know how to get back in balance and stay in balance will increase your profitability.
This program shows your people you care about them!  It's beneficial for morale, wellness, absenteeism and most importantly helps them achieve their FULL OUT potential!
When you need high-energy, laugh-out-loud-funny and a timely message all rolled into one, look no further than Kim's work/life balance program! Don't miss this program! Call Kim today!