…What really made her special was that she engaged with us up front to develop a presentation that was precisely fitting to our team. The speech she gave was just amazing and was so tailored down to specific details we had given her about experiences, about numbers."   -Sally Welborn, SVP, Walmart
WORK, LIVE, PLAY FULL OUT:
Make a Bigger Impact
A life lived FULL OUT, performing at full capacity in all areas of your life, brings an unparalleled vibrancy that leads to what we're all striving for – SUCCESS and HAPPINESS. Motivational Maven and Award-Winning author Kim Hodous will help your people embrace new challenges with passion, look for the best in every situation and be ready to bust through the door when opportunity knocks – all so they can make a bigger impact than they already are!
After Kim's humorous and insightful program, you will walk away inspired and with the tools and strategies necessary to make extraordinary changes!

why mindset is as important as skill set
master the power of a compelling vision
boost your performance with commitment and discipline
start with the little things.
have some fun!!  You learn more when you're laughing!
WHY CHOOSE THIS PROGRAM?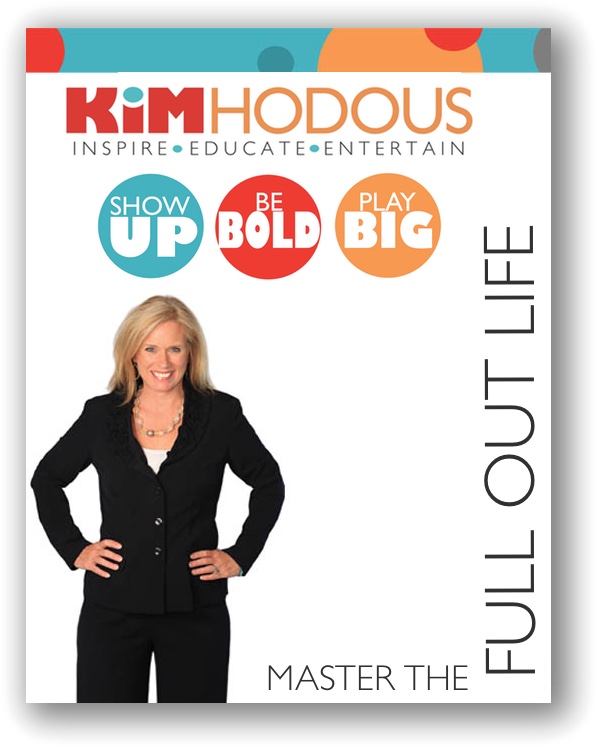 Entrepreneurs, network marketers, managers, and sales representatives need to continually master their mindset to overcome the upset that everyone experiences in business, in sales and in life.  This is a motivational, it's-all-up-to-you program that leads attendees to finding their FULL OUT potential.
Research has verified that even in technical positions, success is determined more by human behavior (mind set) than by technical ability (skill set).  This program will adjust your mindset for success, regardless of your position within the organization.
During this presentation, people are on stage, on their feet, and they'll leave ON FIRE (not literally, of course!) This is the perfect program to jump start any event or close it on a high note.
Book Kim now to dramatically inspire your team and lead them to their FULL OUT potential!