MODULE ONE:
Goal Setting and Attainment
HEART OF THE MATTER
Before you Get Started: CLICK HERE to print the FULL OUT GOAL SETTING worksheets for Module One. Then, clear about 30 minutes of time. Turn off your phone. Shut your computer. Get comfortable. Maybe make a cup of tea or grab a tall glass of water. Then get ready to focus on what a FULL OUT 2017 would look like to you!
I'm a huge proponent of goal setting. The first proof I have of written goals stems back to 28 years ago on December 28, 1989. You can say a lot of things about me – but you can't dis my filing system. I've had a file with 'goals' written on the tab and every year I've thrown my goals from the previous year in there. Here's a portion of my 1990 goals:

My favorite it goal #11 – NOT get pregnant. Notice it was underlined so I must have really meant it. I didn't achieve that goal though – I got pregnant the next 2 years in a row until I had 4 kids under the age of 5.
Then, to be honest, there are a few years missing. I imagine during that time my goal was just to get through the day! Those were some crazy years in my household.
But the one thing I know is that I hit a bunch of the goals on that list and I've done the same thing year after year after year. You'll notice my goals aren't SMART (specific, measurable, attainable, realistic and trackable) – that's a system a lot of goal setting programs advocate. And I'm sure it works. It just seems too rigid for my tastes.
My goals are GRAND.
G – GUARANTEED:   I believe our goals are ordained in the asking.   If it's welled up within you as something you really want to achieve, then you'll get there unless you give up or change your mind!
R – RECORDED: I also believe they must be written down. You can't just think them in your head.
A – AUTHENTIC: You goals have to be what you really, really want, not what someone else wants for you!
N – NOBLE: Your goals must have a higher purpose. They need to help you or someone else. They've also got to be moral and legal! 
D – DARING: They must push you out of your comfort zone. If a goal doesn't make you stretch a little bit, then you need to think a bit bigger.
Chapter 8 in my book is my FULL program of personal goal setting. It covers every area of your life and is a bit more involved than what I am sharing with you here. This is the 911 Version. It's for when you need quick HELP to get started.
911: You're going to set 9 goals, pick 1 Grand Goal and then commit to doing 1 small thing every day for any of your goals and 1 BIG thing a week to get you closer to your GRAND goal.
STEP 1: Look at worksheet page 1 of FULL OUT GOAL SETTING: 911. Write a minimum of 3 goals in each column. If there are more, that's ok. We're going to narrow it down later.
STEP 2: In each column, if there are more than 3 goals, star the 3 that will make the biggest difference in your life when you achieve them.
STEP 3: Go to page 2 of FULL OUT GOAL SETTING: 911. Rewrite each of the 9 goals you selected as most significant and rewrite them on page 2. As you re-write them, see if they morph and change a little bit. Let them gel themselves out. You'll see I don't give you a lot of room to re-write them. I don't want long, lengthy goals. You should be able to state them in 10 to 15 words – or less.
STEP 4: After you've re-written them, circle the goal in each category that will make the biggest impact in your life when it is achieved. You now have your 3 most important goals circled.
STEP 5: Take a deep breath and say out loud each goal individually. Take a moment after you say it to see in your minds' eye what your life will be like when that goal is met. Once you've done this for all three goals, write down the ONE GOAL that comes to the forefront as the most significant and write it under GRAND GOAL.
STEP 6: Now that you've established your GRAND GOAL, I want you to decide how you will commit to doing 1 BIG thing a week to reach that goal and 7 other small things each week to either reach that goal or one of your other 9 goals. Some ideas? Every Sunday night you'll decide before the start of the week what you're going to do each day that week to hit your goals. OR Each morning before you check email you'll do (or plan for doing) your 1 thing that day. OR You'll commit to 1 by 4 – meaning you'll do your 1 thing by 4 PM. Only you know your life and your schedule and how you operate best. So take some time to figure out how you can track this, so you haven't just set these goals but never make any progress on achieving them.
STEP 7: Once you've figured out how it is going to work best for you, make a commitment to yourself at the bottom of Page 2 and sign your name. You're now committed! Good job!
Before I let you go, I want to give you a few tips on how to not just set your goals, but GET your goals. Here are some things I've found helpful over the years:
Rewrite your goals weekly. The muscle memory that comes from physically writing gives power to what we write. Get out a pen and paper and re-write your goals once a week.

Post them where you can see them. Out of sight – out of mind. Keep them in sight.

Celebrate when you do well. We're all good at beating ourselves up when we miss the mark – but we often forget to praise ourselves when we do well. Take time to acknowledge when you get it right!

Chart your progress. If you committed to determining your daily tasks every morning before 8 AM, put a sticky note on your desk with seven boxes and a day next to each one. Then check it off each morning as soon as you get it done. What gets monitored, gets managed and what gets managed, gets done!
You'll find some more supplemental information below to keep you on track, get you motivated and make you smile! Now get going!
FURTHER ENLIGHTENMENT

I love quotes. I included them in each chapter of my book. I actually have books of just quotes. They inspire me and make me smile. So here are some quotes on goal setting. Enjoy!
     "A goal is a dream with a deadline." ~Napoleon Hill
"Failures do what is tension relieving, while winners do what is goal achieving. "
~Dennis Waitley
"Most 'impossible' goals can be met simply by breaking them down into bite size chunks, writing them down, believing them, and then going full speed ahead as if they were routine."
~Don Lancaster
"If you don't know where you are going, you'll end up someplace else."
~Yogi Berra
"Life can be pulled by goals just as surely as it can be pushed by drives."
~Viktor Frankl
"Who aims at excellence will be above mediocrity; who aims at mediocrity will be far short of it."
~Burmese Saying
"Don't bunt. Aim out of the ballpark."
~David Ogilvy
INSPIRATION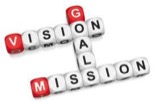 This is a rather lengthy blog on the ultimate guide on how to achieve any goal. It's very zen. I think you'll find it useful! 

This is a 'feel good' two minute inspirational video on goal setting. It ends saying the next video will reveal all…. I couldn't even find the next video, but this one alone was worth watching! Enjoy!
DOWNLOADS

Download your MODULE ONE Mini-Poster by clicking the image. Print it on regular 8.5 x 11 paper and hang it in your office, bathroom, breakroom or wherever you and your team will see it daily.

Download MODULE ONE's Dash of Success by clicking the image. Remember it's for your car's dashboard so it will print in reverse image. Trim it to size, lay it on your dashboard and the image will reflect to read correctly and inspire you every time you get into your car.
END ON A SMILE

This is just to make you smile. It's in German but you'll understand without words. CLICK THE IMAGE and Enjoy!
A Special Offer from Kim: You've received this module because you've recently heard me speak and as a new friend of mine, I have a special offer just for you! If you're ready to take a deep dive into the vital process of goal getting – check out GOAL SETTING AND GOAL GETTING LIFE DESIGN GUIDEBOOK, my 101 page guide to setting your goals, getting your goals and living your best life ever!  At checkout, use the savings code FRIENDS to receive $27 off the regular retail price of $47! That makes it just $20 to start setting and getting your goals today!