MODULE FOUR:
HOW TO BE HAPPIER
The Happiness Habit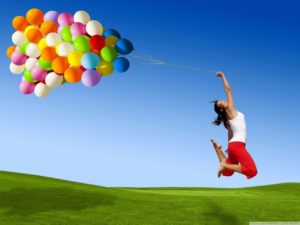 Harvard trained Happiness Researcher Shawn Achor has devoted his life to finding out how we can be happier – and it basically boils down to two things: Our Mindset and Our Habits. It turns out that our habits influence our mindset and our mindset is a result of our habits!
So let's look at what habits can make us happier.
Achor has worked with thousands of companies and schools and he's narrowed it down to 5 actionable habits that create happiness. Here they are:
THREE GRATITUDES
Every day come up with three NEW (can't be the same thing day after day) things that you're grateful for. To make it most effective: do it at the same time every day. Set yourself up for success, so make this a no-brainer! Do it while you brush your teeth or wait for the coffee to perk or while you're at a stop light or before you go to bed. Whatever you choose, just do it consistently.
Make it 3 NEW things each day. The value in this is that it keeps you continually scanning for 'good' things happening in the world at your large and in your world in particular. You want to train your brain to start to look for the good that's happening around you.
And be as specific as possible. Instead of, I'm grateful for my husband, think, I'm grateful my husband gets the coffee ready at night so all I have to do is hit the button to turn it on in the morning. (My hubby has actually done this for 30+ years and I am so very GRATEFUL!!)
JOURNALING
There are so many benefits to journaling: it increases your IQ and communication skills, boosts memory and comprehension, improves your immune function and even sparks your creativity! But even better, when you journal about a positive experience (which is what we suggest) you'll release endorphins and dopamine and it'll increase your self-esteem along with your mood! Start with just a paragraph and see how well it how goes!
EXERCISE
Whether you love it or hate it, there's no denying that exercise is not only good for our physical bodies, it's good for our mental bodies. No need to beat a dead horse – you know you need it, so JUST DO IT! Get moving and it will move your happiness to a whole new level.
MEDITATION
Can you imagine my excitement when I read this? Last month's module was on the power of stillness. I encouraged you to start with just 3 MINUTES a DAY! Just three minutes. (You've taken that long to read this far….) Meditation is not a big deal, it's just a big discipline. You're trying to form a habit, so as suggested last month, do it at the same time every day – like right after you've focused on the 3 new things you're grateful for!
RANDOM ACTS OF KINDNESS
These random acts of kindness can be really small or really big – in this case size does NOT matter. It's just the intentional act of going out of your way to show kindness. We're not talking about having manners here – like holding open the door or letting someone exit the elevator before you. We're talking deliberately acting in a way to make someone else feel better. Maybe it's sending a note or email of appreciation to a family member or someone you work with. Maybe it's something done anonymously like paying off someone's layaway before Christmas or leaving a gift card in their mailbox. The ideas are endless – get creative!
And here's the totally exciting thing!   What they've found is that when you increase your happiness, you increase your success. Turns out that thought that more success will make you happier is actually backwards. Science validates that the happier you are, the more successful you will be. MET Life did an experiment where they hired people based on optimism – even if those people performed poorly on aptitude tests. And what they discovered is that optimistic peeps outsold their pessimistic counterparts by 19% in one year and 57% in year two! Wowza!
So to sum it up – in just 5 minutes a morning you can knock out 3 powerful Happiness Habits: 3 gratitudes, journaling and meditation. Get your exercise in 3 to 6 times a week – and be intentionally kind. All this, and you're sure to be just a little bit happier!
FURTHER ENLIGHTENMENT
"It isn't what you have, or who you are, or where you are, or what you are doing that makes you happy or unhappy. It is what you think about."
~Dale Carnegie
"We tend to forget that happiness doesn't come as a result of getting something we don't have, but rather of recognizing and appreciating what we do have."
~Frederick Keonig
"Happy people plan actions, they don't plan results."
~Dennis Waitley
"Happiness is when what you think, what you say, and what you do are in harmony."
~Mahatma Gandhi
"Happiness is not something ready-made. It comes from your own actions."
~Dalai Lama
"Happiness depends upon ourselves."
~Aristotle
"Be grateful for what you already have while you pursue your goals.
If you aren't grateful for what you already have, what makes you think you would be happy with more."
~Roy T. Bennett
"Very little is needed to make a happy life; it is all within yourself, in your way of thinking."
~Marcus Aurelius Antoninus
"Remember there's no such thing as a small act of kindness. Every act creates a ripple with no logical end." ~Scott Adams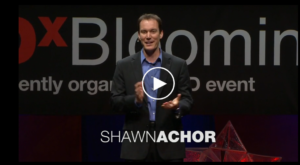 Not only is his research impeccable, but he's laugh out loud funny. If I'd gone to Harvard, I would have taken his class!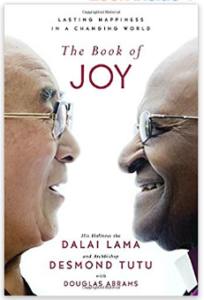 The Book of Joy: Lasting Happiness in an Changing World by Dalai Lama, Desmond Tutu and Douglas Abrams


DOWNLOADS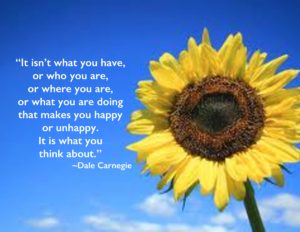 Download your MODULE FOUR Mini-Poster by clicking the image. Print it on regular 8.5 x 11 paper and hang it in your office, bathroom, breakroom or wherever you and your team will see it daily.

Download MODULE FOUR's Dash of Success by clicking the image. Remember it's for your car's dashboard so it will print in reverse image. Trim it to size, lay it on your dashboard and the image will reflect to read correctly and inspire you every time you get into your car.
INSPIRATION
End on a Smile – Here are some kids who CHOOSE to be happy, regardless of circumstance. Just look at their smiles! And notice, they're MOVING! Exercise, in any form, will make you feel better!